Virtual / Zoom Show
Given the challenge of Covid, organizing traditional banquet style live event is no longer practical, nevertheless, not only taking your event online is a viable solution, it might even create a special experience for participants.
For the last few months, we have been proactively making experiments on presenting magic acts via Zoom and now we are proud to say that we manage to take advantage of the medium and come up with magic acts that are even more engaging and powerful when done virtually.
Here's the show that we did with 3HK in webinar format, take a look, it will give you a better idea of how a virtual show looks like:
Live Magic Shows
Applauds, Laughter and Long Lasting Memories of your event Guaranteed!!!
We provide Highest Quality and Innovative magical entertainment services in Hong Kong, Macau and internationally.
From close up walk around magic at private party to full evening show for corporate annual dinner, we provide full range magic shows and we always customize our magic show programs to meet our client's individual needs.
Close Up/Walk Around/Mix & Mingle/Roving Magic Show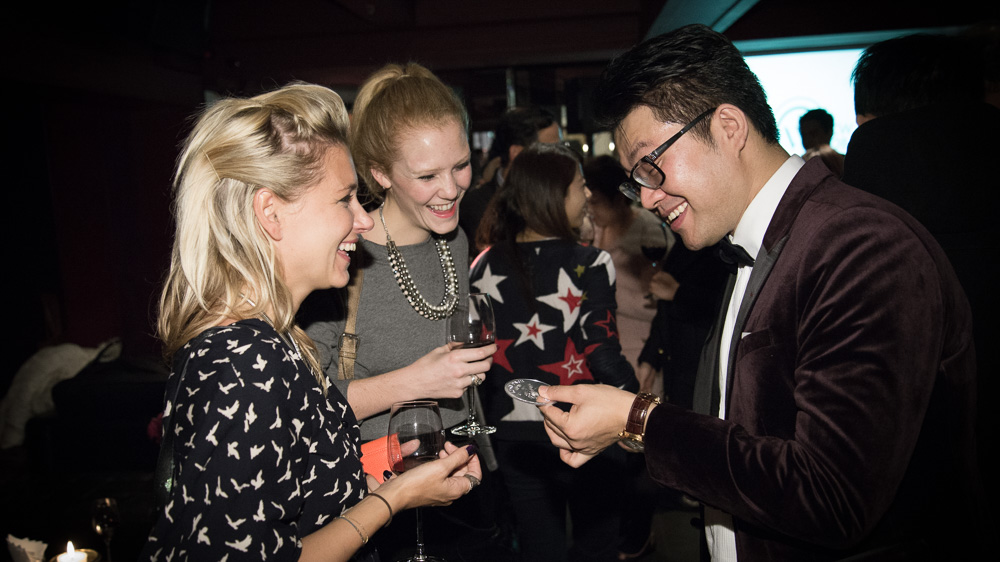 Close Up magic is the perfect ice breaker for any event.
Close Up magic show offers the opportunity for guests to witness all the miracles performed right in front of their eyes and they can experience the amazement first handed. We understand your need of making a true connection among guests at event, therefore we will create a scenario where your guests will participate in the magic performance, and also engaging into conversation afterwards. Close Up magic show goes well with almost any event: corporate events, exclusive parties, family shows, wedding parties...
Parlour/Stand Up Magic Show
Parlour Magic show is a very flexible form of magical entertainment, it dates back to when the leading entertainers of the day performed for wealthy clients in their own home. We would bring along a table and set up a performance area at the venue, visibility could reach 50+ audiences. We recommend Parlour Magic Show to:
1, An intimate group of audience that would like to enjoy a classy and interactive magic show, such as: Birthday and Family Parties, Private Gatherings, Business Hospitality Dinner, etc.
2, Festival events in which audience can interact with the magician at the magic corner/booth
Stage Magic Show
High Visibility and High Impact
Our stage magic show consists music act and interactive magic.
All guests will first be impressed by a series of quick and visual magic effects performed by our artists, and then we would invite members from audience to join us on stage. Our stage magic show combines visual magic effects, mind reading and a lot of audience interaction together. We recommend Stage Magic Show to:
Company and Public Events with 100+ Pax, such as: Corporate Annual Dinner, Gala Dinner, Fundraising Dinner, etc.
Signature Act
Some of our clients are internationally renowned luxury brands, private banks and boutique VIP travel agencies, we are often asked to present our very best materials for their VIP, celebrity and dignitary clients, to which we would recommend our Signature Act service. Signature Act is exclusive with individual artist and consists the very best and most original ideas from an artist, these acts have won international magic competition awards for artists and feature some of the rarely seen and highest caliber magical effects, it will astonish even the connoisseur of magic. We recommend Signature Act to:
Private Dinner for Celebrity and Dignitaries, V.I.P. event for luxury brands.
Grand Illusion Magic Show
Grand Illusion magic is the epitome of stage magic shows. Fast paced, energetic, dramatic and visible to hundreds and even thousands of audiences! If you would like to to create the ultimate surprise for your event, you may wish to consider VIP/CEO/Bride Magical Appearance Illusion. We recommend Grand Illusion show to:
Events with 300 + pax
Infotainment/Trade Show/Customized Magic
As the term suggests, infotainment = Information + Entertainment
Magic is a mystery and it never fails to create a long lasting impression on audiences, it is therefore one of the best tools to deliver a message.
We work with our client on script and customize magic effects around products, make the introduction of speakers unique and novel, keep attendants freshen up and energized through out the entire meeting. We recommend Customized Magic service to:
Product Launch and Branding Event
Corporate Magic Show Training / Team Building Magic Workshop
We provide stage magic show consultancy and training service so that we can assist your staff to perform magic on stage at your annual dinner or other company events.
Magic workshop is a great option as your team building activity, not only your staffs will learn magic tricks that they can perform in their daily life, they will even be able to perform a special piece of magic altogether. Trust us, the video of their performance is priceless!
These services are highly customized and often quoted on a case by case basis, please contact us to obtain case studies and sample workshop outline.
Some of the people we've worked with